Yosh
! I be taking my vacation soon (very soon) so I decided before leaving to arrange and post my notes of Ms.
Dormaine
book that has probably collected a lot of dust in my kindle for being set aside. I've finished reading it for quite some time now but just didn't have the inspiration to write my review.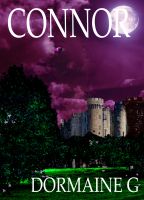 CONNOR
By
Dormaine
G
My rating:
★★★★
★
Summary:
Connor
recently discovers
she has the gift of invisibility among other
gifts but what
she doesn't realize is that her life is about to change for the worse. She is 15, sarcastically funny, at least she thinks so, and doesn't always like to face reality. Soon she meets five other teenagers who have abilities similar to
hers but
not everyone is so eager to find answers as to why they are different.
Sensing their lives are in danger, she is determined to figure out the truth by any means necessary, forcing her to grow up fast. Connor is slapped with the cold, hard, fact that the people she thought she knew
are not
who they appear to be and all human beings are not just that, human.
Through all of this, Connor and Tony, one other with abilities, start to develop feelings for each other causing jealousy in more ways than one. Then there is Ronin, he is young, smart, and breathtaking. He is set on taking his revenge out on
Connor but
she has no idea why.
*****
My Review:
The first thing I find out the moment I start reading is that I have an instant "dislike" of Connor because she called her parents' affection for each other gross, but then again that seem to be a fashion for kids now— to react so negatively on adults love. But okay, moving on.
I don't really know what to make of Connors character; I can't clearly grasp her personality. She's a bit of a tomboy but awkwardly girly. On one side, she sounds friendly, but then I find myself feeling that she's a fake, like how she secretly have negative things to say about everyone even to those who are normal and kind enough.
She
lack of consideration to others situation and called them selfish, when in fact she's even worse, because she's the one who often contradicts herself, making her a hypocrite in my eyes.
The book's author might have intended to make me (the reader) feel intimately close to the heroine, but halfway through the story I found out that I couldn't care less about Connor and just continue to read because of the other characters.
But for me to get so annoyed just prove that this book was good. Good enough to make a fuss about the character. But there's something that bothers me about this book that stopped me from giving it a full five star rating and that is some time in the part after the young characters meet their mentors, there is time during the narration when I feel like the author was making me read Wikipedia, when she wrote one word then repeat it inside the parentheses. Ex. The author first mention then follows it up with an instruction of how its being pronounced, but by including it inside the parenthesis, such as
"Renads (ray-

nauds

) Dianads (Dee-a-

naud

)"
it's not a big deal to see it once or twice but encountering it many times start to get annoying. In my opinion Ms.
Dormaine
should have just written as it was pronounced, right away because that really put a break (for me) to enjoy the story.
Another thing about the book—it wasn't as bothering as the previously
mention
but the book could some dialogue rearrangement of the "diacritical mark" to the speech. Example:
"Bet it's you, but what do I get in return?" he asked. "Huh, I don't know. What do you want?" I asked.
Of course, it could have been intended that two characters spoke in the same paragraphs. But that kind of thing bothers me too.
The ending is kind of… should I say… cliffhanger, but it's fine as it is too. This book doesn't fall into my favorite list but I wouldn't say that I'll discourage anyone from reading it. Give it a try, who knows you might enjoy it more than I do.