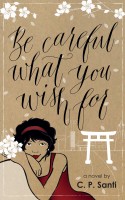 Summary:
Wishes are very powerful . . . and they can sometimes be dangerous.
When Ana made a birthday wish to fall in love, she was specifically thinking of her research colleague Daniel Sato . . . she wasn't exactly expecting to cross paths with hunky actor Ken Nakamura.
Be careful what you wish for—Fate always answers—even if it isn't exactly the answer we were hoping for
~ ~ ~
My Rating:
4 out of 5
I love josei manga! And
Be Careful What You Wish For
reminded me of josei manga. The story is a classic geek and famous guy plot and, to be honest, I was disappointed at how I could easily put it down and forget about it for months. But I'm truly happy that I pick it up again.
I unenthusiastically start reading from the beginning again, but after passing 20% of the story my interest doubled, and by fifty percent I nearly go around the apartment with the kindle on my hand. Though I was a bit disoriented that most of the inner thoughts were not italics, the rest was okay. The narrating was really nice, the pace is perfect. I also love all the Japanese phrases inserted in the paragraph. After reading manga and watching anime for years, I picked up a lot of Japanese words, so it didn't hinder me from enjoying the story, in fact, it made the whole book very exotic, very Japanese like. I can really see and feel the Japanese culture in this book.
I don't have much to say about the book except I really liked it. Ana made me like and dislike her, same goes to Ken. Their relationship toward the end annoyed me. I didn't like how they kept on repeating that their relationship was still a fake even when they already cleared the misunderstanding. But that's how they are. My favorite character here is Yoshi and (surprise!) Ai! Yes, I really like Ai. I have a thing for liking villains something when the heroine annoyed me haha :D
If you're in the mood for wholesome romance, give this book a try.
Purchase Links:
Kindle
|
Smashwords